Pepper Gel Pistol Grip, w/ Wall Mount (Black)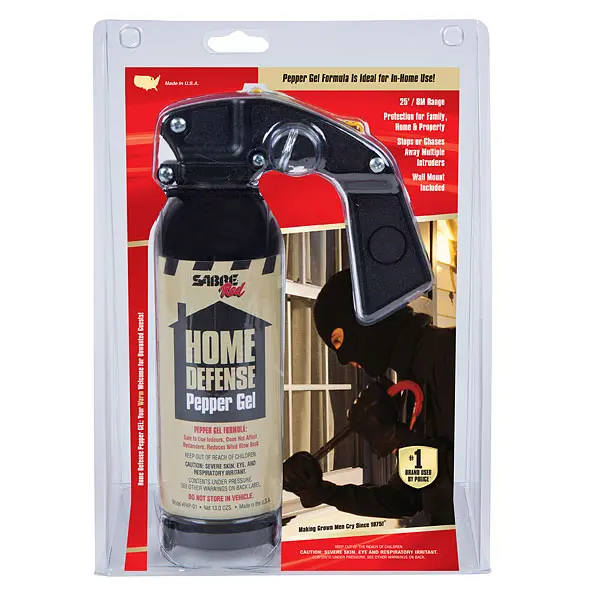 Description
SN: 023063103648
State laws prohibit shipment of this model to AK, AR, CA, DC, FL, HI, MA, NC, NJ, NY, & SC. Please pick up your purchase in person at our store with a valid government ID. Must be at least 18 years old to purchase. No refunds on pepper spray products.
The pepper gel delivery format provides greater containment of spray, virtually eliminating wind blow-back, reducing the possibility of self-contamination. Pepper gel does not atomize in the air, meaning it only affects what it directly contacts. It's safe to use indoors, as it won't spread through HVAC systems and is designed not to affect family members in the immediate area. Gel offers a 20% greater range than traditional pepper spray stream. This model contains 13oz. and a spray range of 30ft./9m, for protection at a safer/greater distance. It contains approximately 32 shots (up to 5x more than other brands), in an extra-large canister with a pistol grip for enhanced aim, control, and product retention. The pepper gel format makes for easy indoor cleanup after surviving a violent home evasion, instead of contaminating your entire house with a pepper spray format. This model also contains UV dye that helps identify suspects after they have been contaminated and try to flee the scene.
Ergonomic Pistol Grip Button Retention: The pistol grip design combined with the extra-large canister is perfect for defending your family in the home. Simply grab the pistol grip with 1 or 2 hands and push down on the yellow button to release the pepper gel in large volume. The pistol grip firing mechanism is equipped with a safety pin, to prevent accidental usage. This model is a great alternative for those who haven't trained yet or cannot yet legally own/use a firearm to defend themselves.
Wall Mount Bracket: The wall mount bracket makes it easy to securely conceal, store, and access your unit in various hidden locations in your home. Having multiple units tactically placed throughout your house reinforces your home defense plan, and gives family members a tool to defend themselves, should they be separated during a violent home attack.