Pepper Gel Slide Retention w/ Quick Release Key Ring (Black)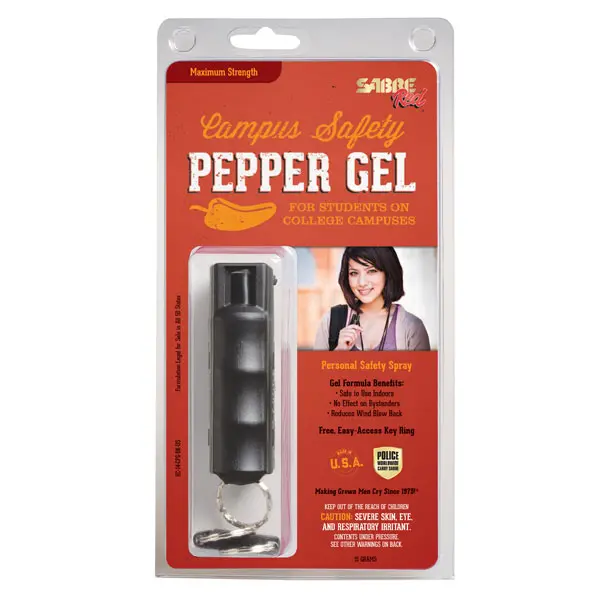 Description
SN: 023063153025
State laws prohibit shipment of this model to AK, DC, HI, MA, NJ, NY, & SC. Please pick up your purchase in person at our store with a valid government ID. Must be at least 18 years old to purchase. No refunds on pepper spray products.
The pepper gel delivery format provides greater containment of spray, virtually eliminating wind blow-back, reducing the possibility of self-contamination. Pepper gel does not atomize in the air, meaning it only affects what it directly contacts. It's safe to use indoors, as it won't spread through HVAC systems and is designed not to affect innocent bystanders in the immediate area. Gel offers a 20% greater range than traditional pepper spray stream. This model contains 0.54 oz. and a spray range of 10 ft./3m, for protection at a safer/greater distance. It contains approximately 25 shots (up to 5x more than other brands), in a compact key case with finger grips for enhanced aim, control, and product retention. This model also contains UV dye that helps identify suspects after they have been contaminated and try to flee the scene.
Ergonomic Slide Retention: The slide design combined with gel is popular among college students and ideal for the college campus setting, giving peace of mind to students, parents, and school officials. Simply slide the lever to the right and push down to release the pepper gel, and then slide it back left to lock it in place. The sliding safety locking mechanism on the left side prevents the lever from going down, and accidentally discharging the pepper gel.
Quick Release Key Ring: Bonus quick release keyring gives you access to your spray when keys are in your car ignition, a locked door, or if an attacker tries to grab your keys/purse away from you. Simply push down in the center of the quick release, to separate your spray from your keys. Be sure to have your pepper spray in hand, when walking to your car/house in dark secluded areas such as an alleyway, parking garage, or an empty parking lot late at night.
Additional information
| | |
| --- | --- |
| please select | Sabre Red Campus Safety Pepper Gel Black – Ideal for College Students, Sabre Red Campus Safety Pepper Gel Pink – Ideal for College Students |