Pepper Gel Flip Top, w/ Belt Holster (Black)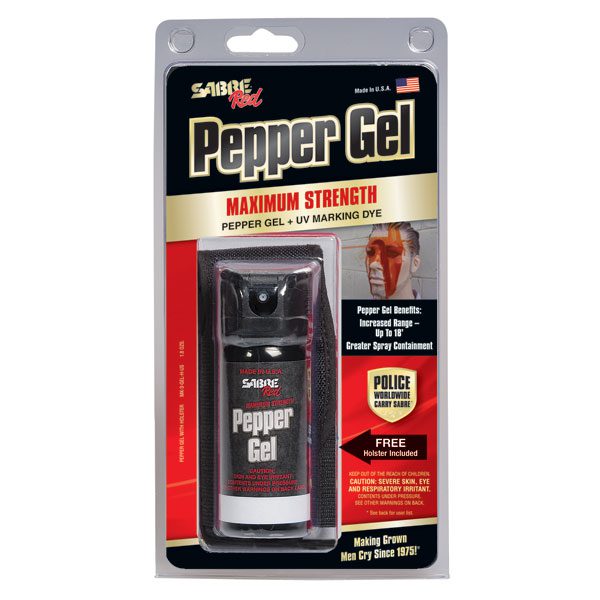 Description
SKU: MK-3-GEL-H-US; SN: 023063153001
State laws prohibit shipment of this model to AK, DC, HI, MA, NJ, NY, & SC. Please pick up your purchase in person at our store with a valid government ID. Must be at least 18 years old to purchase. No refunds on pepper spray products.
The pepper gel delivery format provides greater containment of spray, virtually eliminating wind blow-back, reducing the possibility of self-contamination. Pepper gel does not atomize in the air, meaning it only affects what it directly contacts. It's safe to use indoors, as it won't spread through HVAC systems and is designed not to affect innocent bystanders in the immediate area. Gel offers a 20% greater range than traditional pepper spray stream. This model contains 1.8 oz. and a spray range of 18 ft./5.5m, for protection at a safer/greater distance. It contains approximately 18 shots (up to 5x more than other brands), in a full-size canister that fits nicely in your hand, pocket, or belt holster. This model also contains UV dye that helps identify suspects after they have been contaminated and try to flee the scene.
Ergonomic Flip Top Retention: Flip top design is perfect for those who feel like they need more control over their pepper spray. Just flip the top up and press the button underneath to deploy. This feature lets you deploy pepper spray quickly and easily, while the flip-top safety mechanism prevents accidental discharge, providing enhanced safety. This model is much easier to deploy than other units, requiring less pressure to dispense the gel. It is popular among, and ideal for seniors.
Belt Holster: This model is equipped with an outside-the-waistband belt holster that facilitates quick access, helping your pepper gel be ready at a moment's notice. Your canister is additionally safely secured within your holster by Velcro fastening system, preventing accidental discharge of the pepper gel in a bag or purse.