Practice Pepper Spray, Slide Retention (Blue)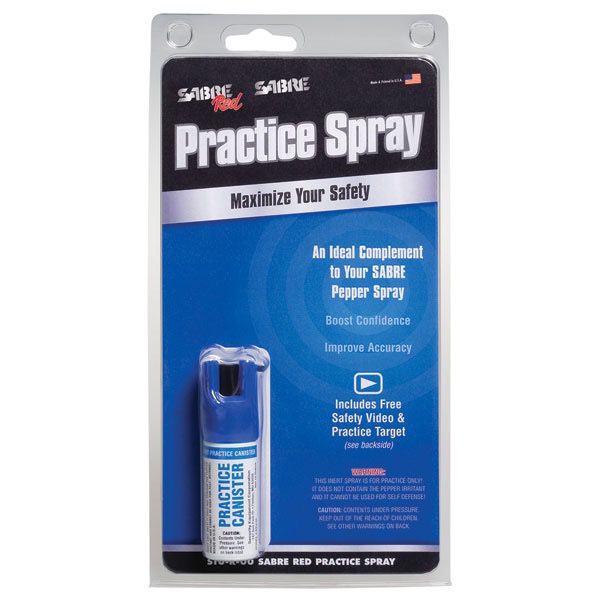 Description
SN: 02306330022136
State laws prohibit shipment of this model to AK, DC, HI, MA, NJ, NY, & SC. Please pick up your purchase in person at our store with a valid government ID. Must be at least 18 years old to purchase. No refunds on pepper spray products.
Practice Spray (Blue): Training with the blue practice spray before encountering a real life-threatening situation, will have you much better prepared to defend yourself, and ensure your personal safety. Using the practice spray first will boost your confidence, improve your accuracy, and maximize your ability to protect yourself and your family. The blue practice canister is shaped exactly like its live unit counterpart, to ensure you develop proper muscle memory, and to help get you comfortable with the retention process. This model contains 0.54 oz. and a spray range of 10ft./3m.  NOTE: THE BLUE PRACTICE SPRAY IS FOR TRAINING ONLY, AND SHOULD NOT BE — USED FOR REAL LIFE-THREATENING, SELF-DEFENSE SITUATIONS. THERE IS NO OLEORESIN CAPSICUM, CAPSAISINOIDS, RED PEPPER, OR ANY KIND OF PEPPER IRRITANT INCLUDED IN THE BLUE PRACTICE CANISTER. THE BLUE PRACTICE SPRAY IS AN INERT, INACTIVE, WATER CARTRIDGE. 
Ergonomic Slide Retention: The slide design is popular among college students and ideal for the college campus setting, giving peace of mind to students, parents, and school officials. Simply slide the lever to the right and push down to release the spray, and then slide it back left to lock it in place. The sliding safety locking mechanism on the left side prevents the lever from going down and accidentally discharging any spray.