Pepper Spray Slide Retention, w/ Quick Release (NBCF-Pink)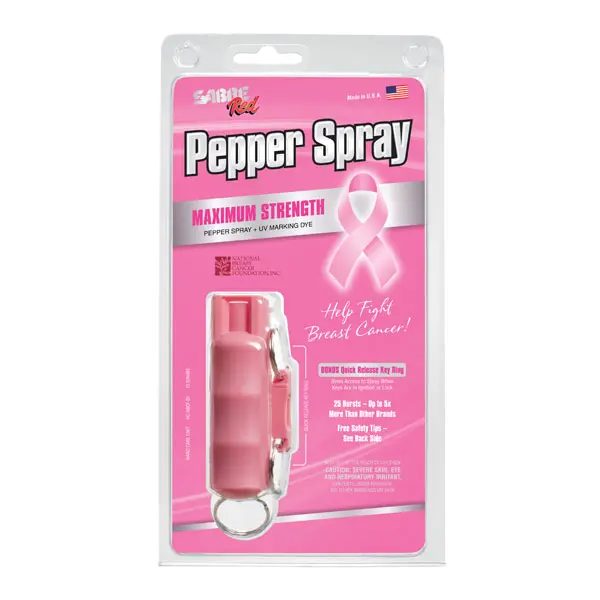 Description
SN: 023063105475
State laws prohibit shipment of this model to AK, CA, DC, HI, MA, NJ, NY, SC, & WI. Please pick up your purchase in person at our store with a valid government ID. Must be at least 18 years old to purchase. No refunds on pepper spray products.
SUPPORT CHARITY: This model supports the National Breast Cancer Foundation, the #1 pepper spray sold worldwide. Over $1.25 million has been donated so far!
SABRE Red is the hottest pepper spray on the market, and its heat provides maximum stopping power in a powerful stream delivery! The pepper spray format atomizes in the air, meaning that there are airborne particles that people can breathe in. This attribute produces area contamination, affecting more than just the person/target the spray directly contacts. Because of the larger impact area compared to pepper gel sprays, it's better to use outdoors. Pepper spray causes physiological and psychological incapacitation. The OC swells up the mucous membranes in the eyes, nose, and throat; causing nasal & sinus discharge, coughing, shortness of breath, drying of the eyes, involuntary eye closure, painful burning sensation of the skin, hyperventilation, & psychological effects (fear, anxiety, & panic). SABRE Red products have high visibility reddish/orange color in their formulation, allowing you to see if you hit/missed your target or where you hit, helping you to quickly identify if you need to reapply another dose of spray to incapacitate the violent attacker. This model also contains UV dye that helps identify suspects after they have been contaminated and try to flee the scene. This model contains 0.54 oz. and a spray range of 10 ft./3m, for protection at a safer/greater distance, in a compact key case with finger grips for enhanced aim, control, and product retention.
Ergonomic Slide Retention: Simply slide the lever to the right and push down to release the pepper gel, and then slide it back left to lock it in place. The sliding safety locking mechanism on the left side prevents the lever from going down, and accidentally discharging the pepper gel.
Quick Release Key Ring: Bonus quick release keyring gives you access to your spray when keys are in your car ignition, a locked door, or if an attacker tries to grab your keys/purse away from you. Simply push down in the center of the quick release, to separate your spray from your keys. Be sure to have your pepper spray in hand, when walking to your car/house in dark secluded areas such as an alleyway, parking garage, or an empty parking lot late at night.