3in1 Spray Slide Retention, Magnum 120 (Black)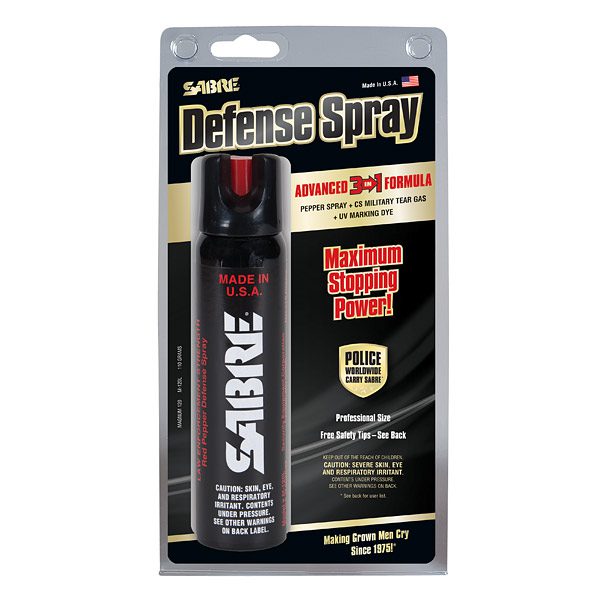 Description
SN: 120023063601212
State laws prohibit shipment of this model to AK, CA, DC, HI, MA, NJ, NY, SC, & WI. Please pick up your purchase in person at our store with a valid government ID. Must be at least 18 years old to purchase. No returns or exchanges on pepper spray products. All sales on pepper spray products are "final" and "as is".
The advanced 3in1 pepper spray formula is a unique blend of CS military tear gas, red pepper, and UV marking dye. 3in1 formula contains all the inflammatory benefits/effects of regular SABRE Red pepper spray, adds the intense irritating effects of CS tear gas, and contains UV dye that helps identify suspects after they have been contaminated & try to flee the scene. These ingredients combined, produce enhanced facial burning. CS is so effective that the US Department of Defense (DOD) switched from using CN tear gas to CS in the 1950s. CS is much more effective than CN/Mace because CS takes effect quicker, is more potent but less toxic, and is extremely effective in low concentrations. The 3in1 spray atomizes in the air, meaning that there are airborne particles that people can breathe in. This attribute produces area contamination, affecting more than just the person/target the spray directly contacts. Because of the larger impact area compared to pepper gel sprays, it's better to use outdoors. This model contains 4.36 oz. and a spray range of 12 ft./4m in heavy cone delivery, for protection at a safer/greater distance, in a large size unit allowing a full hand grip for enhanced aim, control, and product retention. These tactical models are perfect for public safety officers or anyone else requiring a larger-sized spray.
Ergonomic Slide Retention: Simply slide the lever to the right and push down to release the 3in1 spray, and then slide it back left to lock it in place. The sliding safety locking mechanism on the left side prevents the lever from going down and accidentally discharging the release of the 3in1 spray.